This article is intended to help prepare those that plan to participate in any HPDE (High Performance Driving Experience), specifically the Proving Grounds at Brainerd International Raceway.
The Proving Ground events tend to bring in many new comers to the sport.  Most of this market is filled with tuner cars ranging in horse power from 300-400.  Most of these 300-400whp, heavy AWD cars, are also using 100% stock brakes.  Some of you may know what happens when you go 20 minute sessions on a road course with that much power in a 3300lb car on completely stock brakes.  Most also haven't attended any sort of driving school and try to outdrive their car (and themselves), so as you can maybe imagine, we have lots of offs and a few unlucky ones found themselves looking for a ride home.
SO, how can we keep that shiny car nice and shiny?
Car Prep:
1. Let's start where the track meets the car.  Tires.  For HPDE events, there isn't a need for expensive, sticky, R-Compound tires.  Sure they will make for better lap times, but HPDE's aren't timed, so no need to waste the money.  I recommend some high performance street tires.  Hankook RS3's, Dunlop Direzza ZII's, BFG G-Force Rivals, Bridgestone RE-11A's, Nitto NT05's, or Advan AD08's to name a few of the good ones.  These tires should last several HPDE events and can be driven on the street daily.
2. BRAKES!  The 2nd most important thing to deal with (We'll get to the most important thing later).  Your brakes generate an immense amount of heat, and this is repeated at every single corner, lap after lap.  Stock brake pads will not put up with this, and basically melt away.  When your brakes become 1500*F, that heat gets transferred to the brake caliper, which then starts to cook that brake fluid.  Most basic brake fluid starts to boil at around 400*F when fresh.  if you haven't flushed your brake fluid recently, it'll boil around 300*F.  Once the fluid boils and turned into a gas form, you lose 99% pedal pressure resulting in NO BRAKES.  Not a good feeling when you're doing 100+mph into a turn.  Below is a graph showing various brake fluids, boiling points, and estimated prices.  Make sure to flush out your old, low temp brake fluid with one of the high temp racing fluids below.  (Dot 3/4/5 are brake fluid ratings, it is not a brand of brake fluid)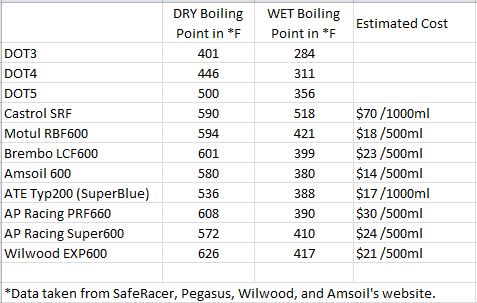 Brake Pads- Find a good high performance brake pad.  NO, the Autozone Gold's are NOT going to cut it.  A good brake pad is going to cost you in the $250 range if not more.  For an Evo or STi, I would recommend Carbotech XP12 or XP10's, Hawk DTC70's, PFC97's or PFC01's, or Raybestos ST47's to name a few.  Do some research for your specific car, and don't be cheap on brake pads.  The $50 you save will not buy you a new car nor pay for your medical bills.  (FYI- Your auto insurance does NOT cover track days)
3. Suspension.  Myth bust #1- You do NOT need coilovers!  Everyone seems to think suspension upgrades are a MUST before doing any track driving.  I'd almost go as far as saying 80% of the aftermarket suspension parts are actually worse than the OEM suspension.   The only thing you need to worry about with suspension is that everything is in good working order.  Check for play in wheel bearings, ball joints, tie rods, and anything else that moves.  Check all bolts and ensure the car has no unusual clunking, rattling, grinding, chirping, barking, squealing, or whatever other sounds that aren't normal.  If you haven't had one lately, an alignment wouldn't be a bad idea either.  If adjustments allow, adding some negative camber (don't "stance" it out with -15*) will usually help, anything in the -1.0* to -2.5* range seems to be optimal on Evo's or STi's.  Desired alignment specs will vary from car to car, so do your research.
4. Engine.  Less power the better.  Do you think every formula 1 driver started in formula 1?  You will learn MUCH more starting with a slower car and that is a FACT.  So turn down the boost.  Other than that, change the oil, check for leaks, and if you're boosted, make sure you are running some good I/C clamps/pipes.  Oh, and make sure your battery is 100% secured and you have the positive terminal covered.
5.  Safety Equipment.  Starting with your head, you MUST have a Snell 2005+ rated helmet with eye protection.  There will be absolutely no exceptions.  You have been warned!  Natural fiber clothing is recommended, and at the minimum jeans, a long sleeve shirt & closed toe shoes.  If your car is utilizing a harness, it must be a minimum 5 point and mounted correctly.   A neck restraint, race suit, proper roll cage, fire system, fixed back race seat, battery cut off switch, fuel cell, are all recommended but not required.
6. YOU!  This is THE MOST important thing to deal with.  Drive within your limits.  No need in trying to drive balls to the walls.  At the very most, you win a cheap $10 bowling trophy and maybe a T-Shirt.  Your life/car as well as someone else's life is NOT worth the risk.  Start your first few sessions slow, brake plenty early, and get a feel for the track and your car.  Find the race line, and make small changes and slowly build up to the limits.  A good driver will always analyze every situation (subconsciously) with the "risk vs reward."  Is driving 10/10th worth it?  If you are doing an HPDE event, the answer is always NO.   Dial it back, we want to see you drive your car home.
Track Day Insurance.  Have piece of mind when attending a track day.
http://locktonmotorsports.com/product/track-insurance/
Some other tips:
-Always be prepared.  This means be on time, and even better, early.
-Hydration.  Bring water and some healthy food.
-Bring some extra tools, spare tire, jack, Torque Wrench, Windex, rags, tarp, umbrella, extra cloth, a chair, and a good quality friend.
-Be prepared.
-Extra set of brake pads/rotors and extra brake fluid.
-Be on Time.
-Research, read some driving books, knowledge is everything.
-Find an experienced friend that you can tag along with.
-Ask questions, find an instructor, or better yet, sign up for a real driving school.
Some very informative websites:
http://www.goaheadtakethewheel.com