Better late than never right?  It's been a crazy past few weeks catching up with other projects.  The ChumpCar really took 95% of our attention and everything else took a backseat leading up to the event.   If you haven't been following along, we took a full street BMW e30 and in less than 6 months, turned it into a full race ready car.  That's also with 6 weeks of ice racing it to ensure the refreshed motor was up to snuff.  Lots of late night, weekends, and sometimes even mornings spent working away, grinding, painting, drilling, cutting, welding, and who knows what else.  With a week before the event, the car was in 99% ready form with just very minor things to do prior to the race.
The story starts on Thursday right after work.  We signed up for the Friday practice day so we can at least drive the car.  None of us have really driven the car on anything but ice.  Friday was cold, a bit rainy and very windy.  We had the car ready to go right off the trailer (for some reason this is a rare thing).  The BFG Rivals were on the car and we wanted to get a break in heat cycle on them.  Andy was the first to go out, was the first in line, and was the only one on the track for the first 15 minutes that the track was open.  Half a lap in, and he spun.  The excuses were flying in on the radio and the team just ignored him.  He stayed out for another 20 minutes and the car got better after the tires warmed up and the track sort of dried.  After Andy we cycled through the drivers.  Everything was going great, track dried up and the lap times were falling.  We pushed the car until it nearly ran out of fuel to see how far we can push it with the gas light on.  Mike didn't like this and after about 7 laps with the gas light on he pulled into the pits.  We refueled the tank and to our surprise, fuel was pouring out from someplace under the car.  Yeah,.. not good!   After a long 2 minutes we found the filler neck breather tube to have a crack by the worm clamp.  We took another long 5 minutes and fixed it.  This 7 minute set back got us upset.  So we ate lunch.
So the Test day was a great success and with only one small hiccup of the day, we were ready for the race.  We went back to the hotel and studied some data and track notes then got some good quality shut eye.
Saturday morning- RACE DAY.  We were all so pumped and full of excitement.  Driver lineup was Eric, Mike, Megan, and then Andy.  Drivers meeting, then back to the pits to get ready.  Eric is in the car, gas and oil topped off, tire pressures set, radio check, timers set, engine starts, and the cars leave pit lane. Now if you're not familiar with how ChumpCar does its starts, they randomly pick a car number from a hat.  THAT car number is now dead last place and the next car is in 1st.  So, after about 2-3 laps, the green flag drops.  Andy yells over the radio, "GREEN GREEN GREEN."  After Eric's first lap, the live timing starts to update, and to our surprise, we ended up in 1st taking the green flag.  Not a bad way to start our first race.  Now I won't go over the entire race in detail as these are 7 hour enduro races.  If you want details you are just going to have to come to the race live.  Eric finishes his stint in 2nd place, then Mike takes us out and he starts his stint in 7th place and brings it back to the pits in 5th place.  Then Megan goes out for a short 1 hour and 10 minute stint.  She brings it back in with almost a full 2 hours on the clock.  This means Andy has to make the final 2 hours on one tank of gas.  This is something we were not even sure the car could make.   Andy starts driving conservatively to ensure we can finish the race without making an unnecessary pit stop.  This goes on for about an hour, then we hit a full course yellow for about 15 minutes.  This allows us to run the car a bit harder for the remainder of the race as we "should" have enough fuel left.  Andy takes the checker flag giving us our FIRST finish in ChumpCar.  We finished in 8th place but another team was DQ's for running unclaimed modifications so we took 7th overall.
We had a big Racer's High that night as we all feasted on some food and bought the Chump staff a round of beers.  Went back to the hotel, studied some data and video, had lots of laughs and story sharing, then hit the sack.
Sunday's Race-  We went over the car the night before, rotated tires, found a flat spotted tire, bleed the brakes, and all that fun jazz, so when we arrived Sunday morning, we were ready.  Driver lineup today was Andy, Mike, Megan, Eric.  The start of this race wasn't anything like Saturday's.  Andy left the pits and immediately called in on the radio, "We have a pretty bad shake in the wheel."  Just great, but to our luck, another car had an even worse shake in their wheel.  So bad that the tire came off and left them stranded in the back straight.  This made for a full course yellow and gave us time to come into the pits for a quick check.  After a 1 minute pitstop, Andy was back out there before the green flagged dropped.  This time we started in the back in 34th place.  Picking them off one by one Andy finished his stint in 13th place and drove for about 1.5 hours.  Mike next, driver change and fuel fill goes flawless just like all of our pit stops from the weekend.  We come to a full course yellow about 1.5 hours into Mike's stint.  If we bring him in, that means Megan and Eric both have to drive for nearly a full 2 hours.   We make the call to bring Mike in.  Megan gets in and we send her out after another flawless driver change.  At the end of her stint, she starts knocking out some killer lap times.  With no gas light on, we keep her out there as LONG as possible hoping the yellow flag comes out.  It never does, and with 1:59 of her stint complete, we are forced to bring her in.
Last Stint- Eric gets in the car and has to finish the race with 1:50 left.  I think Eric left the pits in 17th place.   Our early pit stop strategy nets us about 5 or 6 positions.   Getting to about 30 minutes left in the race and getting low on fuel, we have a full lap to catch the next position.  We crunch some numbers and find that if Eric can pick up his pace by a few seconds, we'll catch him after 15 or so laps.  We radio to Eric, "Go 3-4 seconds quicker per lap but use less gas."  Eric replies with a "No Problem."  With only a few minutes left in the race, we waited in suspense as Eric would come around that last corner.  Finally, we see our car come through turn 13 in front of the #600 moving us up into 9th!  It was an exciting moment for us as we're aren't used to deploying much for strategy.  But this time it paid off.  Eric barely made it back to the pits with the car sputtering as he made the last cool down lap.
Weekend Summery- One of the best racing weekends ever!  So much fun, lots of seat time, lots of team work, lots of cool people, an overload of joy, fun, relief, excitement, and many other things.  The entire winter of working on the car has paid off and not only did we finish, we finished in the top 10 twice our of 49!  And the car could not have run any better.  One thing we did learn though, is to be competitive we need to get a bit more "creative" with the allowable modifications.  We are not exactly used to the rules being interpreted the way some are interpreting.  We took a $20 value hit for wheel spacers, something that apparently can go a LONG way in ChumpCar.  Oh well, we have a little bit of work to do and we'll be back.
But for now, here are some pictures, screen shots of some data, and a video or two.
Eric's Stint, Start of Saturday's Race:
Andy's Stint, Start of Sunday's Race:
Still have your attention?  well then lets review some data.
Below is a chart of Velocity vs Distance.   This shows the speed at which we were traveling at that specific point on the track.  You can see who is carrying more speed through what corners and who is getting that faster exit speed.
Eric-Blue; Andy-Green; Mike-Black; Megan-Red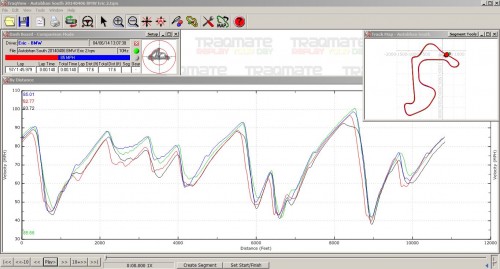 Now there is more than JUST raw speed.  Sometimes the tighter, shorter distance line is faster than the higher speed, longer distance line.  This is why data can be very important, we can quickly find the "fast" way around the track.
Below is a time gap graph.  The solid blue line is Eric's fast lap.  Anything above is faster, anything below is slower.  This shows where on the track each driver was gaining or losing time.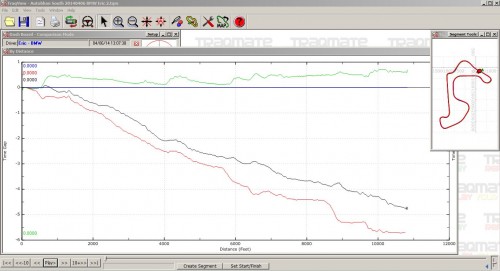 From this data, we all have areas where we can improve on.  Next time we are back at Autobahn, we WILL be faster.