Sadly this is the only NASA event we may get to all year.  With the addition of ChumpCar, our schedules and pocketbooks lack any surplus.  So we had to make this a good one, and we did.
We left Stevens Point around 5pm and headed for South Beloit.  Blackhawk is our closest track so it was a pleasant 2.5 hour drive.
Filled up the fuel drum with precious E85 and hit the road.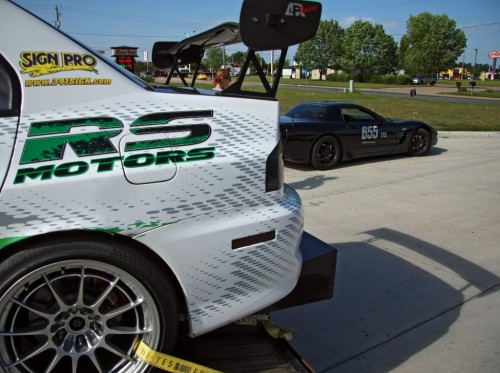 We got to the track, found our usual spot, and setup camp for the weekend.  Just in time for the perfect trackside sunset.
Saturday Morning-  Rain and thunderstorms were in the forecast, but the most we saw was some very light rain.  Hardly enough to make the track fully wet.  We both went out and got up to speed knocking off a few seconds each session until we got comfortable.  The quickest lap times are usually put down in the morning when the air is cooler, but with the added rain, it made each session a gamble.
Andy and the Evo put down a 1:13.1 lap which beat the old track record by 2 seconds, but then the following sessions a Lotus took it with a 1:12.5.  From here on out, this was the time to beat, but the best we could do with the Evo remained the 1:13.1 for today which secured 2nd place.
Eric and his newly acquired Z06 did amazingly well.  Even on the Continental slicks he was able to put down a 1:17.4.  Maybe next year we'll have some better tires on it and he can really turn up the heat.
Results from Saturday: http://timingscoring.drivenasa.com/NASA_Midwest_Region/2014%20-%20Official%20Results/Blackhawk%20Farms%20-%20July%202014/July%2012%20TT%20Merge.pdf
Saturday evening was spent mostly under the EZ-Up until we found a nice garage for shelter.  Eric found a cracked rear rotor on the vette.  Few phone calls later we found one 15 minutes away.  Also Mike spilt stuff, no surprise there.
Sunday-  Weather was looking perfect with sun and cool temps.  The best laps come in the morning, so A-Game switch was turned to high and tire pressures were set to low.
The first session out was a bit of a throw away session.  The track was still damp in spots from the overnight rain, but by our 2nd session is was in perfect condition for a fast lap.  2nd session was THE session.  Andy put down a 1:12.93 and Eric set is best lap to date with a 1:17.11.  Session 2 also consist of another new overall track record, by a Mustang.  This isn't your normal mustang, its nearly quadruple digit HP Mustang and put down a blazingly fast lap of 1:11.3.
With the temperature raising, the conditions for a faster lap become less.  After session 2, we found that the Hoosier tire pressures on the evo rose from 32psi to 45psi hot.  Way to high for Hoosier, so we dropped them down to 30psi (still warmish) and gave it one more try.  While this did help with grip level, the hotter air temp makes for less power.  Session 3 became the new best lap time for the Evo but not by much, 1:12.92.
We also had a guest to the 365Racing team, Tom Hille.  He ran Sunday with his Evo and put down a fast lap of 1:16.49.
Sunday Results: http://timingscoring.drivenasa.com/NASA_Midwest_Region/2014%20-%20Official%20Results/Blackhawk%20Farms%20-%20July%202014/July%2013%20-%20TT%20Merge.pdf
Some Driver POV Videos:
Eric:
Andy:
More Pictures: