Our 3rd and last ChumpCar race of 2014 took place at Road America.  By far our most relaxed race we have ever done.  Compared to our last 2 events, we spent so little time working on our car.  It was nice.  It was enjoyable.  Why cant they all be like this?
We left Friday on our super long 2.5 hour journey to Road America.  It was a cold and raining day and we took our sweet ass time.  Tech really didn't exist, and we couldn't get into the track until 6pm.  So we sat outside the track and harassed Team MKR.  We eventually unloaded the car, and went for supper.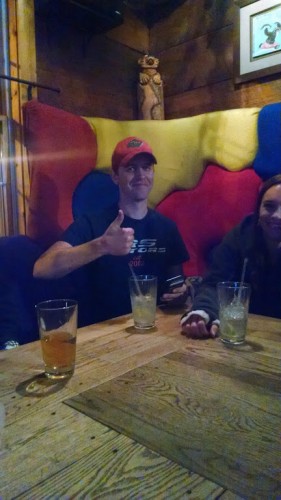 Saturday morning.  RAIN!  I like driving in the rain, but holy effin rain line.  This proved the be VERY tricky as the grip was in the weirdest places.  Took about an hour for things to dry up where we could start driving on the dry racing line.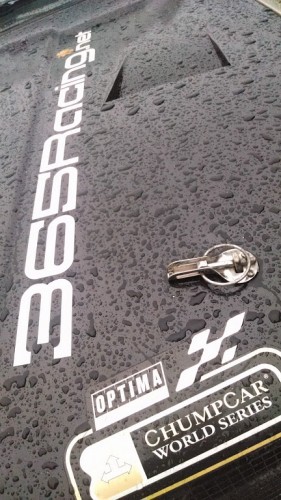 Besides cars flying off the track left and right, we went on throughout the day drama free.  Our new fuel system ran flawlessly and we were able to push the car pretty hard for a full stint.  This was a relief as this has been a non-stop battle since we built the car.   The last 25 minutes of the race (after a full course yellow) can be seen here.
Throughout the race we kept in the top 10 and finished in a solid 4th place, just one spot short of the podium,….again.
Bleed the brakes, changed front rotors, rotated some wheels, and our Sunday prep was complete and we headed for supper with the MKR guys again.
Sunday- Weather for October was great, no rain for today at all.  We got a good starting position and kept turning those laps.  We stayed clean and on track (well most of us did) and it paid off with a solid 6th place.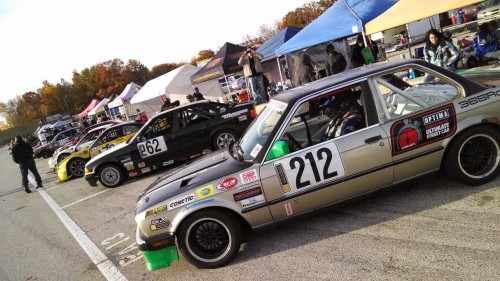 Matt from MKR had so much energy I couldn't believe it!
Some track data showing a comparison of our 4 drivers: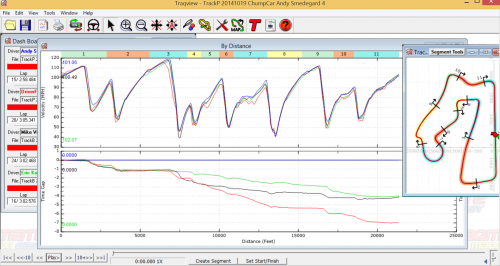 More video to come…