Few months ago Ronnie from RS Motors talked me into going to the Michigan USCA event with my dented up, daily driven Honda S2000.  I ran out of excuses so I signed up for the event.  At this time, the S2000 was stock with just an intake and a bigger front sway bar.  I gave it my hell and with a little bit of luck I managed to win and obtain the invite to the Las Vegas Invitational event which takes place immediately after SEMA.  Part of the USCA rules states the car must be on display in the Optima Alley at SEMA (Yes SEMA, the largest automotive convention in the US).
Ok, so now what???   The work begins.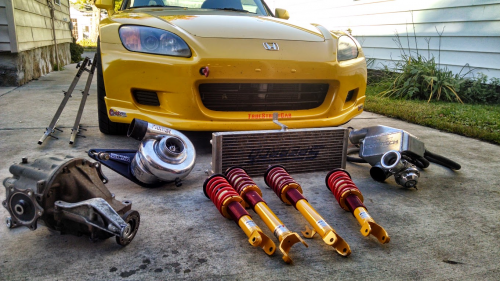 Phase 1- Handling.
I cant thank Ground-Control enough for stepping in and helping my efforts.  I'm pretty sure Honda setup the AP1 to be a drift car, because that's all that car wanted to do.  With the new GC setup, the balance of this car become much more ideal.  I was able to break into the 1:11's at USAIR in Shawano, faster than any other RWD car to date.   Small tweaks to the alignment, removed the rear sway bar entirely, and some fresh tires also made noticeable differences.
Phase 2- POWA.
How do you make significantly more power with a small 4-cylinder that is already making over 100hp per liter?  You Supercharge it!  With the help of RS Motors in Burnsville MN, the small 4-cylinder now produces 360whp.  Compared to the rest of the USCA field, this is still low, but every bit of this HP will be put to good use.
Phase 3- SEMA.
You may have seen pictures of this beat up S2000 before.  This car was used for 2 seasons of Ice Racing and was also the official 365Racing driver enhancement car.  Its plowed through more snow banks than a plow truck.  This car also has 190k miles on it, so to say this thing was SEMA ready was a joke.  So with the help from Kurt at SignPro in Plover WI, the beat up S2k got a major makeover.
Before: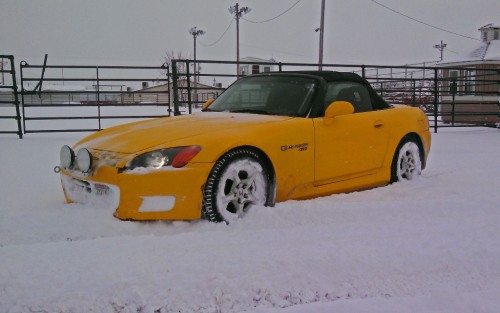 After: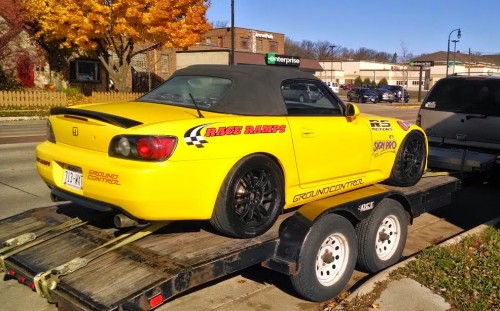 I owe a big thanks to so many people that have helped.  So lucky to have so many people willing to help out.
RaceRamps.com
RS Motors
Sign Pro of Plover WI.
Ground-Control Suspension
Boosted Films
Quicktrick Alignment Products
and of course the 365Racing Crew
Stay posted for more updates, like our Facebook page.
Next Stop-  LAS VEGAS.