Over 50 people travelled nearly 2000 miles for this event.  To help, to spectate, and to support.  We are extremely thankful to all friends, family, supporters, and sponsors.  No way in hell could we do this without you all!
Now, onto the trip, which really started a long time ago, but we'll start it on Wednesday, which is when I flew into Las Vegas.  We arrived late in the day, so we didn't have much time to do anything.  It was cool to walk into the Stratosphere and immediately see a bunch of people wearing the RSMotors T-Shirts.
Thursday morning we walk to SEMA.  SEMA is HUGE!!!  If you ever have the chance to check it out, I strongly recommend it.  There is SO much to see its mind blowing.  Most of today was spent checking stuff out, getting registered, few interviews, and then a nice evening of dinner with the Race Ramps crew.  Following dinner, we found a crazy Limo driver that took us to all the best places.  We even found Ron's favorite casino game.  We found ourselves crawling into bed around 3am.
Friday- Late morning.  Get breakfast, and head back over to SEMA for the Optima press conference.  Walked around some more, met with the awesome QuickTrick people, then geared up for the SEMA cruise to the after party, SEMA Ignited.  Thousands of people watched as all the SEMA cars left the show.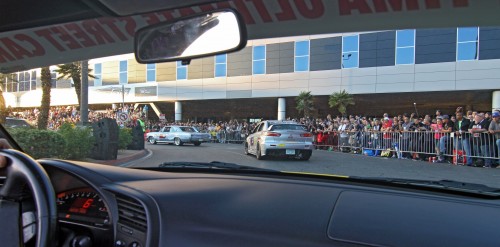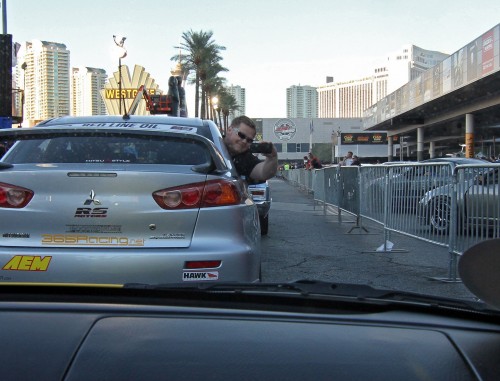 And a few pics from SEMA Ignited:
After the after-party, we went back to the hotel to get a good nights rest.  Well some of us did.
Saturday- The competition begins!  We were split up into 2 groups.  One half does the Speed-Stop challenge while the other half does the autocross.  Halfway through the day we flip-flop.  I wont go into the details for all of us, that's too much typing.  If you want all the details, you'll just have to join us next time.
Pictures from Saturday's Autocross and Speed-Stop.
After Saturday, came Sunday, which is Road Course day.  We got 4 sessions to put down our single quickest lap.
All in all, this experience was awesome.  Cant wait for next year.
Full Results: http://www.optimabatteries.com/index.php?cID=2952
In-Car video of the Road Course:
Support the people that support us!
RSMotors
RaceRamps.com
Ground-Control Suspension
QuickTrick Alignment Products
Sign Pro of Plover WI
AEM Intake
BoostedFilms.com