This event was always one of those things you say you would do one year.  Well, some late night group conversation in which Ronnie (from RS Motors) was involved, led us to actually sign up.  When we signed up, we didn't even have a running car.  But that didn't matter, we'd figure it out later.
Before I go any further, Rhys did an outstanding job at covering our experience.  Much better than I could ever do:
Rhys Ladhani Media:
http://www.rhysladhanimedia.com/blog/one-lap-of-america-2015-day-1-and-2
http://www.rhysladhanimedia.com/blog/one-lap-of-america-2015-day-3
http://www.rhysladhanimedia.com/blog/one-lap-of-america-2015-day-4
http://www.rhysladhanimedia.com/blog/one-lap-of-america-2015-day-5
http://www.rhysladhanimedia.com/blog/one-lap-of-america-2015-day-6
http://www.rhysladhanimedia.com/blog/one-lap-of-america-2015-day-7
http://www.rhysladhanimedia.com/blog/one-lap-of-america-2015-day-8
Faster forward to a few weeks before the event, we decided to take Ron's Evo as Brandon competed in the USCA Las Vegas event the weekend before OneLap.  Ron always keeps his evo up to snuff so it really didn't need much prep work.  New tires, some fresh fluids, and a trailer hitch install was really about it.
May 1st (The Friday before the event)- Ron and Brandon headed to Stevens Point.  Here at the ASM-Garage we checked a few things over, got the trailer setup, re-packed the car, and at around 11pm we left. We arrived in South Bend a little early and waited for Perkins to open for some breakfast.  Then headed to The Tire Rack where the journey would begin.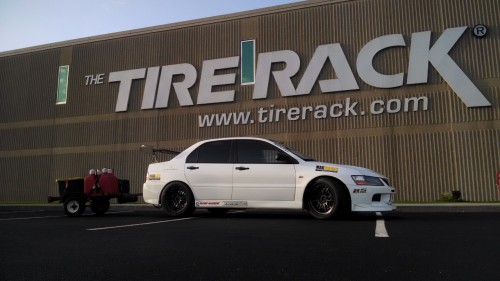 Unloaded car got our large packet of stickers and began sticker'ing the car.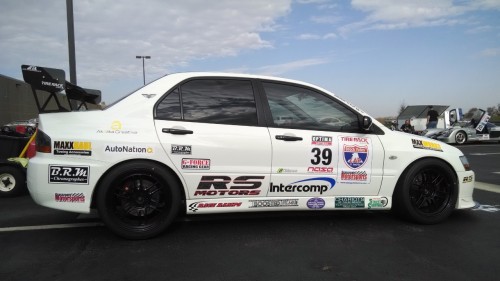 Went through tech, and then it was the wet skid pad event.  Here we took a pretty upsetting 21st place.  It seemed that many of the heavier cars equipped with the Michelin's did very well in this.  Right away we left and headed for Omaha NE.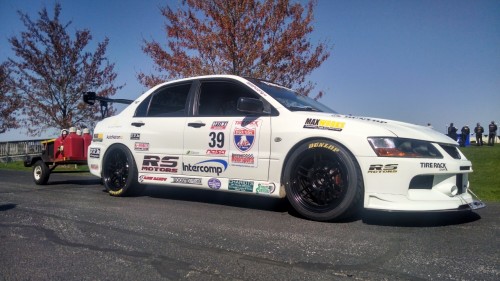 Next track (Sunday): Raceway Park of the Midlands (formally known as Mid America Motorplex)
Here we got a chance to redeem ourselves.  This was the only track out of the entire series where any of us have been on.  Since Brandon was here 2 years ago, he was chosen to drive.
If you aren't familiar with the format of OneLap, this is how it works.  You are given a "recon" lap and you return to the start/finish line.  They run in groups of 4-6 cars.  You start from a stand still, the green flag drops, and you are doing 3 total laps.  The time is the TOTAL of the 3 laps (not your best lap).  So very little practice and you must be consistently fast.
There were 2 events this day (same track, same direction).  The first event Brandon put down an awesome time taking 3rd place overall.  The next event was just few hours later.  Here we had a little bit of drama.  On Brandon's recon lap, the car was not wanting to run correctly.  He radioed in to us where we started brainstorming.  He was on the pit road about to come in when Brock Yates Jr yelled to us it would be a 10 second penalty.  We immediately told Brandon to go back on track, and at the very last second he drove through the grass and got back on track.  Ron figured out the problem and helped talk Brandon into changing tunes back from pump gas to our e85 tune.  All worked out and Brandon had the tune changed right at the last second and no penalty taken.  He then stepped it up and took 2nd overall for the afternoon.  Pack it up and we're off to High Plains Raceway in Colorado.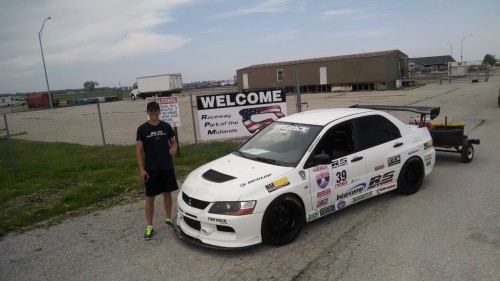 High Plains Raceway (Monday):  This track is filled with many blind corners, elevation changes, and to top it off, it was damp the first outing.  And from here on out, all tracks were 100% new to us.  Most of the time, we didn't even know what each track looked like 24 hours before driving on it.  Over the transits we had lots of time to study up.  We also had some good friends helping us with tips and tricks on various tracks, and we are extremely thankful or the help.
I (Andy) got to drive this track.  I walked it as many times as I could before driving it.  The Evo loved this track, especially the back tighter stuff with all the elevation changes.  There were several times she wanted to 4-wheel drift, and sometimes I let her.  We ended up leaving this track with a 2nd place overall in the morning and another 2nd place in the afternoon.  I felt much better that I got to redeem myself from the crappy skidpad event.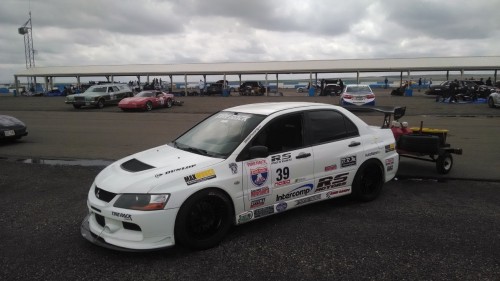 After High Plains, there was a Passage Control checkpoint at the Tire Rack in Denver.  There they let us come take whatever tires we wanted along with some food.  I love Tire Rack.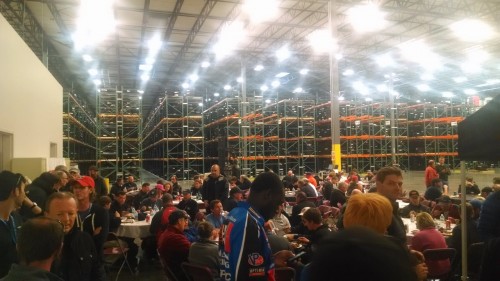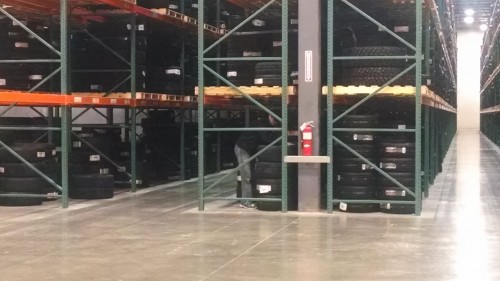 After some food, we left for Pueblo which was only a few hour drive.  This was one of the few nights I think we got to the hotel before 1am.
Pueblo (Tuesday):  We were suppose to do a drag race event here, but it was pooring out.  The road course also uses part of the drag strip, but I guess when VHT gets wet, its like ice.  So the solution was to run a Solo type event where the start is at the end of the drag strip, and the finish is right before the start of the drag strip.  There was no recon laps given here, and with a very wet track, I'm sure Brandon was nervous.  But he attacked this just like the other tracks coming out with a 4th place in the morning and a 1st place in the afternoon.  We packed up as soon as we could to try and get an early start on the long 600+ mile commute to Texas.
Next up Motorsport Ranch in Texas (Wednesday):  This track was very challenging and with 3 different configurations, we each took a try at it.  Brandon went first on the super challenging, blind cornered, 1.3 mile track.  Ron took the fast 1.7mile track, and I got stuck with the full 3.1.  We came away from this event with a 3rd, 11th, and a 5th overall.
Right after this, we had to drive a little over an hour to Northstar Dragway for some drag racing.   We arrived a little early so we took this chance to do an oil change and check everything over.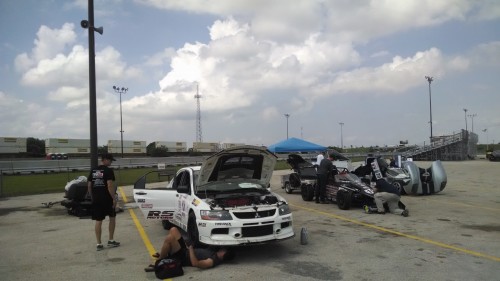 Ron was our Drag Racing master.  He performed great with the 2nd quickest ET overall and then took us to 5th in the bracket racing competition.
Now, off to Hallett, but not before dodging tornados and floods.  Using our smart phones, we were able to drive right in front of the storm and just miss it without losing much time.
Hallett Raceway (Thursday): Brandon's up.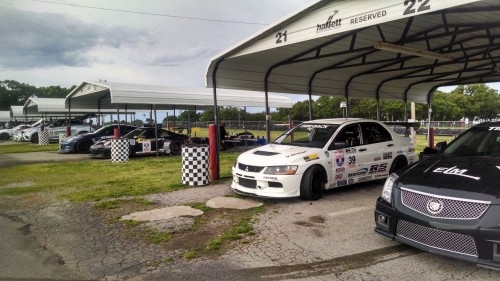 Unpacked the car and Brandon took a nap.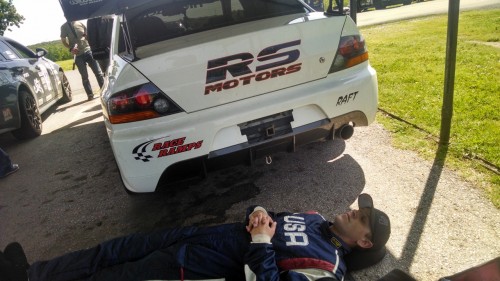 We came away from Hallett with a 5th and a 4th overall.  We left as soon as we could for our one last long haul over to Bowling Green Kentucky.
National Corvette Museum (Friday): I had the honors of driving at this track.  What an awesome facility and a crazy fun track.  Morning session I had one small off but didn't lose more than 2 seconds worth.  The afternoon we miss judged how much gas the evo drinks at this long and fast track.  She started fuel cutting on the last lap losing about 8-9 seconds of time according to the Traqmate.  We still managed a 4th and a 6th overall finish.  This left us in 3rd overall with only the dry(ish) skidpad to go.  It was a much shorter than usual drive back to South Bend and it was nice to relax and go sit down and eat.  We event got to see Mike again!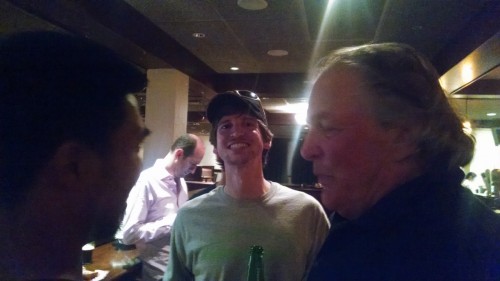 Tire Rack Dry(ish) Skidpad (Saturday): Got to TR, emptied out the car again.  The run the dry skidpad in backwards order (Slower cars first).  The skid pad isn't very dramatic.  Cars doing circles.  that it, until someone starts drifting it, then it becomes entertaining.
We finished the skidpad 9th overall giving us the 3rd place overall spot for the 2015 One Lap of America!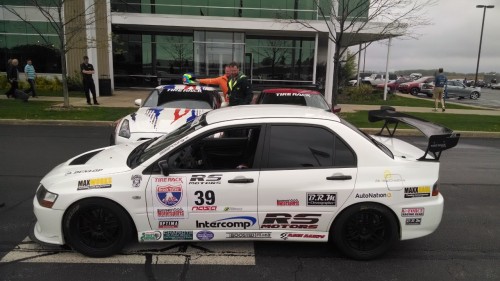 This was an awesome experience and I hope I get the chance to do it again.
Big Thanks to our sponsors, supporters, fans, and families.  Not possible without the help and support from everyone.  Thanks to Ronnie and Brandon for letting me into the group, you two were like brothers to me on this trip, always looking out for each other.  Thank you to Churchill and Rhys for following and covering this event for us, you guys are awesome!
Race Ramps
Intercomp Racing
Akalika Creative
MaxxWorks & MaxxHaul
and of course- RS Motors.