Over the years, its become very apparent that the evo's suffer from a drop in oil pressure around right handed turns.  With race tires (and even these new 200 treadwear "street" tires) pushing well over 1.2 lateral G's even without much aero, this problem can become a major problem.
Some simple things we've done to help band aide this problem include:
Overfill-  Make sure you have oil a little over the full mark.
Type of Oil- We've tried a few different brands of oil along with a few different weights of oil.  The best results seem to come of the Amsoil Dominator 10-30.
Kiggly HLA-  From their website:
-Actively Regulates Lash Adjuster Supply Pressure to a Constant 15psi
-Reduces Oil Flow Into the Head, Keeps More Oil in the Pan
-Air Bleed at the Highest Point Helps Oil Quality and Aeration to Lash Adjusters
The above seem to help just a little, but not enough.  We were still seeing big drops in pressure around nearly every right hander.  Here is a few screenshots from our TraqMate:
Gingerman Raceway: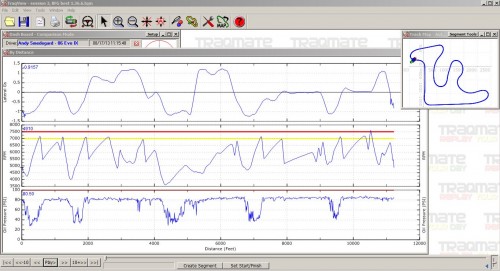 Blackhawk Farms Raceway: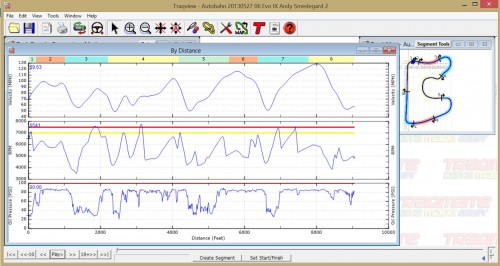 So our next attempt is an Accusump system.  Its a pretty basic system consisting of a pressurized canister that will pressurize the motor's oil system when the oil pump is starved from oil.
More info here: http://www.accusump.com/accusump_tech.html#whatis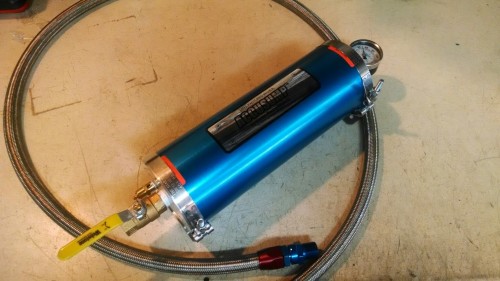 Update- 9-2-2015. 
Just completed Road America this last weekend and so far the basic accusump system seemed to have helped, but not cure the issue.  There is a few upgrades we can do to help increase the efficiency of this system, so we will continue to advance this setup and post more later.
Graph of the oil pressure at RA-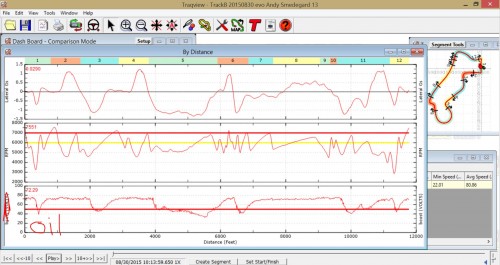 You can see the pressure start to drop to its lowest pressure going around the carousel.  I wish I could find my logs I did years ago when I was at RA.  They used to be into the 20psi range.  pretty scary stuff.
I want to add the electronic valve and pressure switch on the accusump so it doesn't open until it sees less than 55psi.  This is another $300 upgrade bringing this total system to $600ish.  But if it works like it all should, its worth it.
Update 2-4-2016
Ok been meaning to update this a bit more.  I did some "accidental" testing at Buttonwillow Raceway last November.  I've been running the Accusump setup now for a while at it seems to be working well.  During this event we had a few issues.  Blew a turbo apart, front diff exploded, and a few other smaller things.  With all the scrambling I accidental forgot to open the accusump for a session.
Here's a log of 2 different sessions. This Blue line is without the accusump. The red is with it on.
The graph with the circle is oil pressure if you haven't figured it out.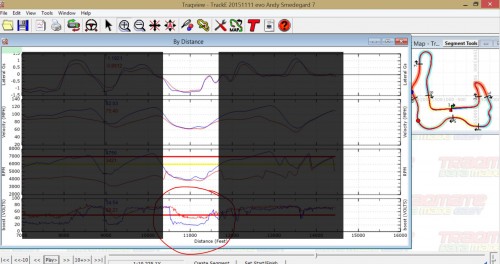 Try to ignore everything greyed out.  I picked a corner where speed/grip levels were very similar.
So its clear the accusump makes a significant difference. Only other oil mod I have is the Kiggly HLA.
———-
Parts list for Accusump.  I recommend purchasing through Pegasus Autoracing
1240-CYL – 2 Quart Accusump Cylinder
1245-55 – Electric Valve Kit for Accusump 55-60psi
1246 – 2 and 3 Quart Accusump Mounting Clamps, pair
3270-10-FOOT – #10 Size Stainless Steel Braided Racing Hose, price per foot
3497-050-08-10 – 1/2 Male NPT to 10AN Straight Aluminum Swivel Hose End
3497-052-06-10 – 3/8 Male NPT to 10AN 90 Degree Aluminum Swivel Hose End