This was supposed to come out prior to the Optima Battery's Search for the Ultimate Street Car event at Road America this past weekend but life and car prep got in the way. So let's first start out with a brief history of my 2006 Subaru Impreza WRX STi. I bought this car in 2007 with 17000 miles on it with no real plan of getting into motorsports, sure dreams of driving fast and being a "racecar" driver ran through my head but I had no idea what that actually meant then. I drove the car around, thought it was pretty cool, I was content. A lot of my motivation through college was watching Fast and the Furious and saying "some day, keep going get through school and you'll have your own car."  As luck would have it I graduated, got myself a real job, and found that very car. Lets fast forward a little to the day I meet up with a bunch of car people at the local Taco Tuesday and they convinced me to attend a lapping day at the go kart track in Shawano, WI, USAir. Holy cow I'm going to be that "racecar" driver. From here everything took off, auto-x every weekend with a track day here and there with no real clue what I was doing.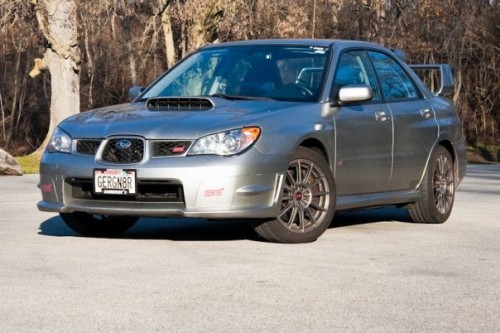 Here's a picture of when I thought I had reached the top with some JDM STi wheels, which have since been sold to fund racing!
Little by little this car started to get upgrades, as my skill progressed so did the car. First up tires and brakes, everyone kept telling me to learn to drive the car so I did. Then I drove Andy's STi on Ground Control Suspension and couldn't believe how well it handled, that was then the next upgrade, his suspension on my car. The car got a Cobb AccessPort and remained Stage 1 (very slight upgrade) and a Crawford Performance cat back exhaust. I drove it like this for some time but eventually I needed some more power and being the conservative person that I am, I ordered up a Moore Performance 3 piece downpipe and used the off the shelf Cobb map on the AccessPort. The car came alive with this, in my opinion. Now I was really flying, still not really knowing what I was doing on track. With more practice and studying and a lot of ice racing I started to learn the basics of car control and how to make the car do what I wanted on track. Within the last year and a half was the biggest progression in my driving abilities. With good tires and brakes, some slight tweaks to the suspension, adding stiffer springs and 24mm WhiteLine Sway bars, and the driver mod progressing it was again time to move up to more power. In steps the man, the myth, the legend, Ronnie Soliman of RS Motors took the Stage 2 tune and one up'd it with his custom tune, holy cow what a difference.
I started running some really fast times for a near stock car making 283hp/297tq. Not enough power to keep up with the big dogs at the track but enough to be respected. I kept hearing, "Man, I can't wait to see you with some power". "Mike, man up and get a faster car". This was all true, I just couldn't physically keep up with the faster cars due to lack of power so I threw my conservative ways out the window with the support of the RS/365Team behind me (it was more like "Mike you're doing this now"). So here's the part of the article everyone has been waiting for from my secretive posts the last few weeks. What transpired over the last two months was far greater on the car than the last 7 years. All the upgrades from those years and weekends full of driving finally lead up to what you are about to read below.
First up was the Stage 1 Exedy HD Clutch for the new power.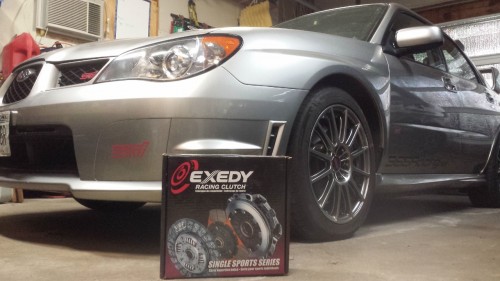 Then to handle the fuel load for the new build we went with the WRX fuel rail and TGV's in place of the STi system so that it retained stock fitment and I could run top feed 1100cc Fuel Injector Clinic injectors. I ported my own TGVs from the WRX. Also the typical Walbro fuel pump was installed.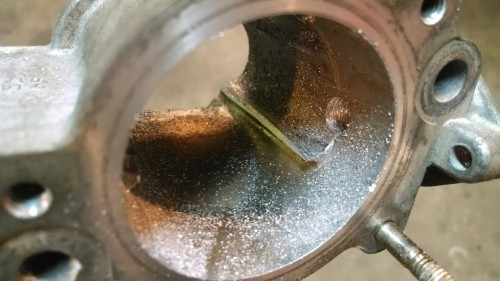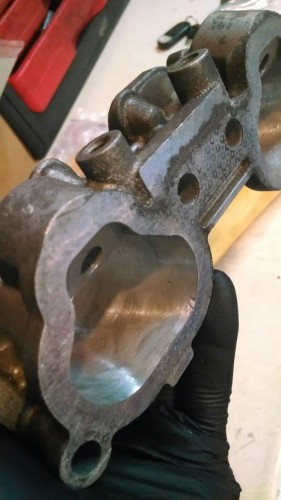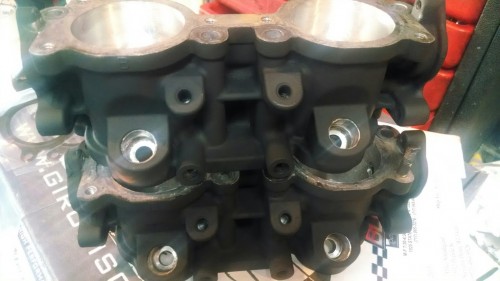 Lastly, the most important piece of the puzzle, the turbocharger. After some back and forth discussions I settled on the Blouch Performance Turbo – Dominator 3.0XT-R Ball Bearing with the 10cm hotside and stock size inlet.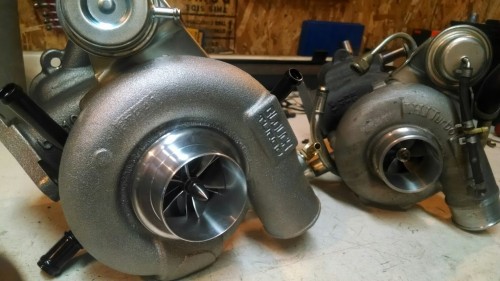 And on the car: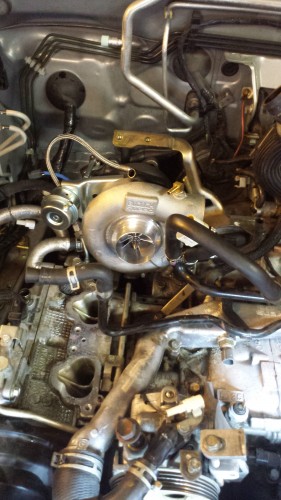 After some dyno pulls and some testing at a local Time Attack we determined the stock intercooler was far too small and heat soaked way to fast so a GrimmSpeed Top Mount Intercooler was sourced.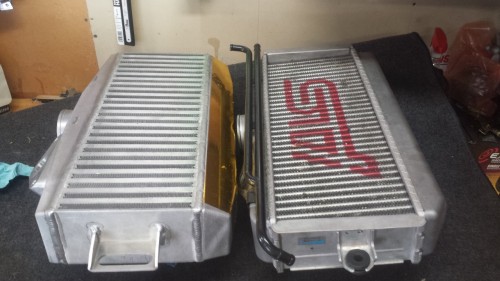 On the car and you'll also notice the Perrin Big MAF intake.
So with all of these changes you are probably wondering what the car makes for HP now. Well it makes a lot more and is an absolute blast to drive. On my first test run at the MN Time Attack it took 2nd Fastest Street Tire Time and 4th fastest overall out of 34 cars. I then swapped intercoolers and ran an autox with the Milwaukee SCCA at Miller Park taking a 1st in the Tire Limited class out of 13 drivers. So here's what the car is making, 408hp/414tq behind the magic of Ronnie Soliman at RS Motors.
On the dyno: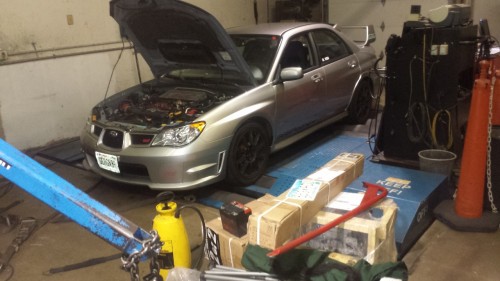 Here is comparison of my stock turbo run of 283hp/297tq to the Blouch Dominator 3.0XT-R of 408hp/414tq on the same Dyno :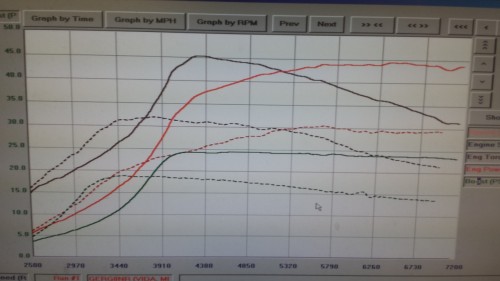 Now fast forward to this past weekend with Optima's Search for the Ultimate Street Car at Road America.
1st Place in GTS class, winning an invite to the Las Vegas Invitational in November.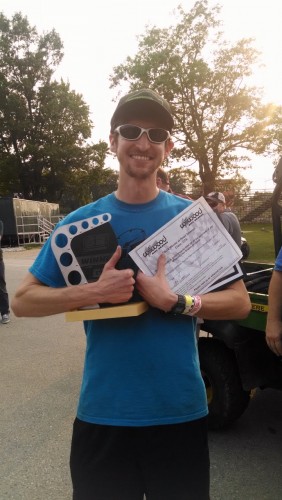 Autocross pictures by Austin B.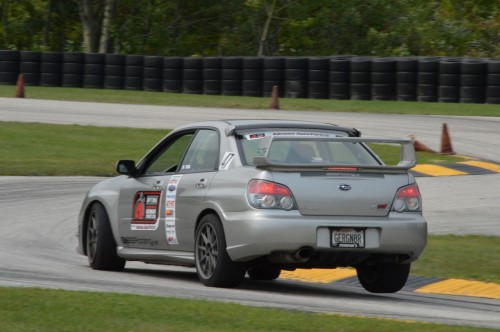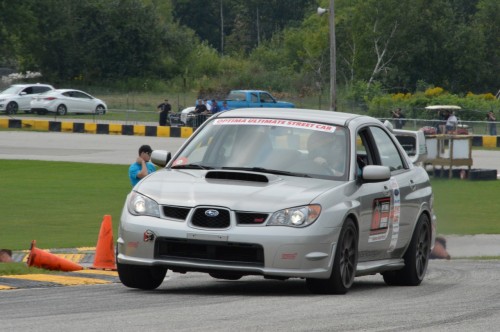 Picture by Alex Hughes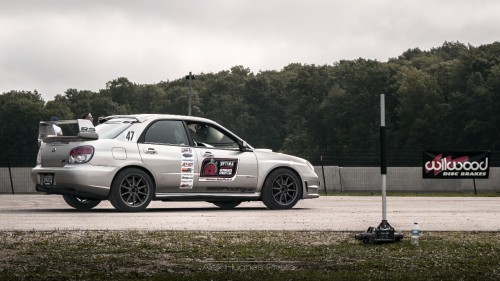 Special Thanks goes to Ronnie at RS Motors and Blouch Turbo.